The Geesaman Advantage
While many builders specialize in one particular aspect of building, Carlton B. Geesaman Building and Remodeling offers an entire package of building options from excavation through framing, roofing, siding, trim, plumbing, drywall, and for that unique touch—custom mill work. In fact, we're so concerned about options that we maintain and operate our own woodworking shop, custom crafting everything from cabinets to trim and molding. We have even designed and crafted a solid mahogany porch for one customer. We'll even help you plan your new home or renovations by providing blue prints and draw up plans—and we'll start the job right by doing excavating ourselves. From plans to completion, Geesaman offers you more building advantages than just about anyone.
Green Building
Like most builders today, CBG is concerned about the wise use of our natural resources, and we fully embrace many of the new "Green Building" standards. New hi-efficiency Energy Star qualified heat pumps and appliances provide significant energy savings, while "Green" friendly products like high, R-value insulation, no VOC paints and low VOC sealants provide our customers with an outstanding level of environmentally friendly products, Customers may also choose to be as "Green" as they desire with other options. Ask us about energy saving and other "Green" options for your new home or remodel.
---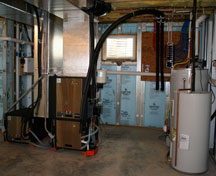 Geothermal Heating & Cooling System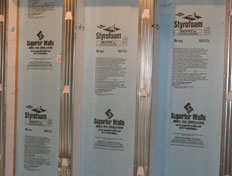 Superior Walls Energy Efficient Insulation